Food drying is one of the oldest and safest methods of preserving food. In Iceland we have enjoyed the health benefits of eating dried fish for centuries. It is one of our best known health "secrets", and perhaps one of the reasons people on the island live a long and healthy life.
It takes 160g of fresh cod fillets to make 30g of dried fish for each of our bags. Our fish includes all the natural proteins, but no water, no deep-frying oil, no preservatives and no colour. It is just pure fish! At 84% protein, it is true super-food. The 30g of dried fish provide your body with 25g of pure, natural protein.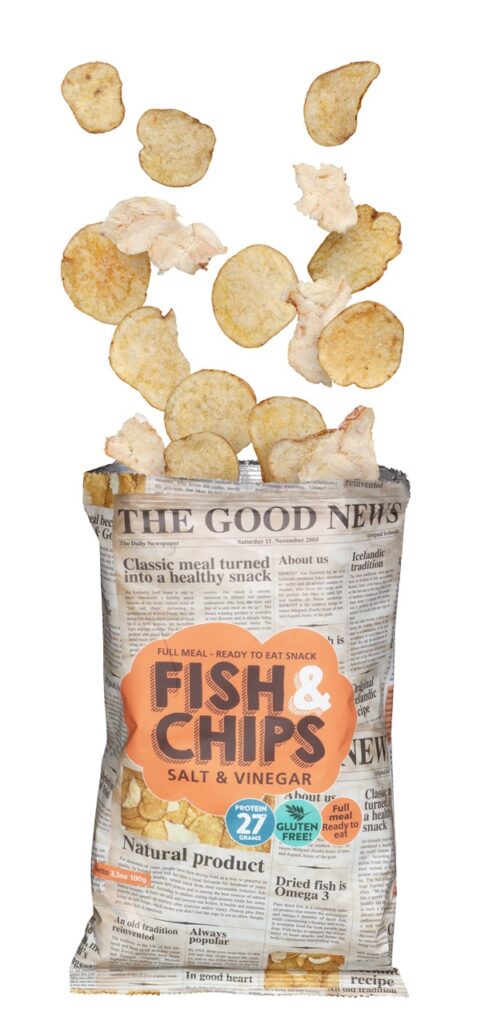 Potatoes have been an integral part of the world's food supply for thousands of years. They are a good source of energy, are high in vitamins, potassium, minerals, antioxidants, fibre and resistant starch which may improve blood sugar control, digestive health, nutrient absorption and satiety. And they are quite perfect with fish!
Our fish and chips come in two flavours, salt & pepper, and salt & vinegar. They are perfect as a quick meal and are ideal for an action packed day-trip. They're also pretty good with your favourite beer!